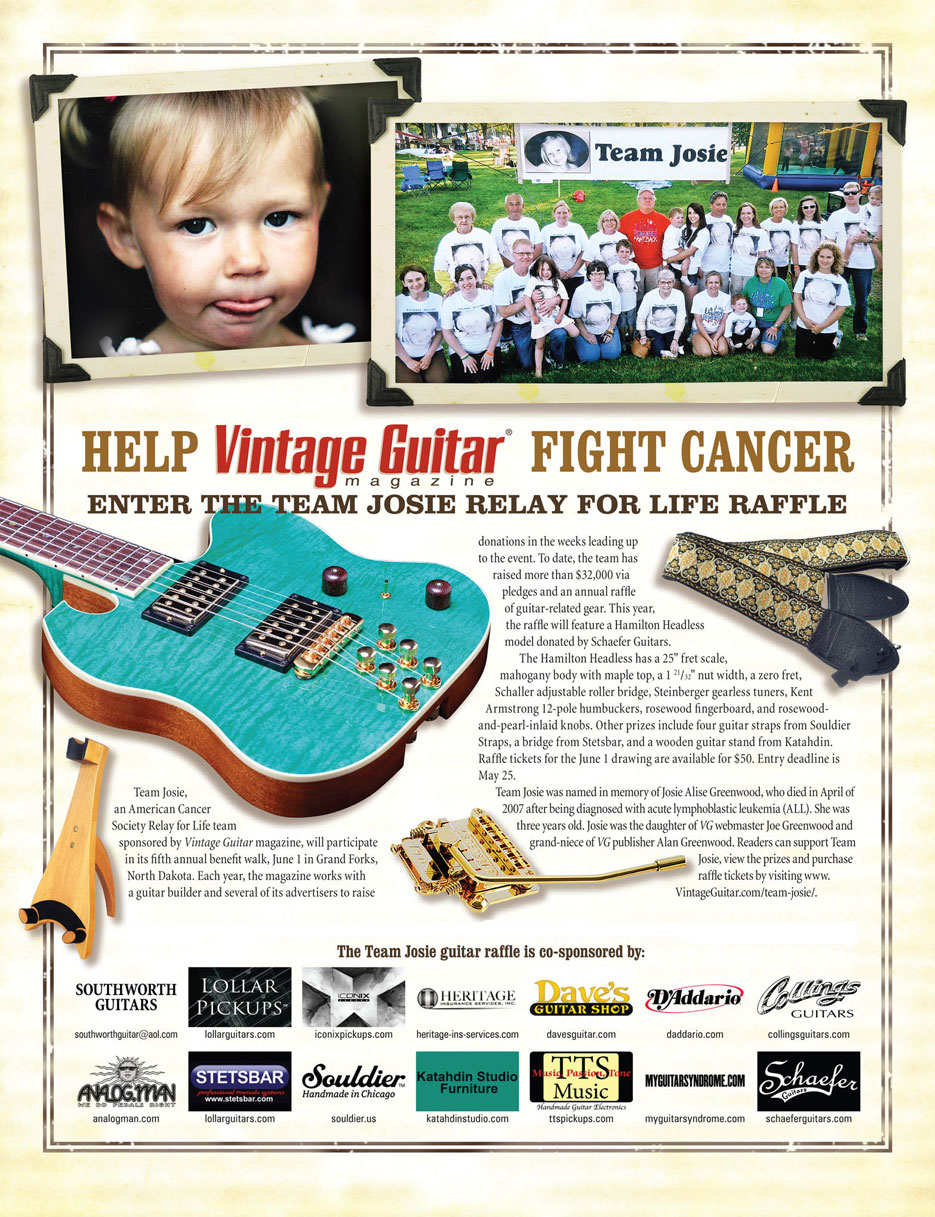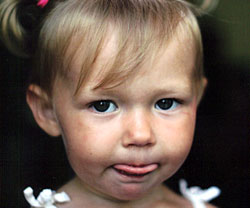 Learn more about Josie Alise Greenwood at JosiesHope.org
On April 9, 2007, Josie Alise Greenwood, the 3-year-old grand niece of VG Publisher Alan Greenwood, died of Acute Lymphoblastic Leukemia.  As you may imagine, it was devastating to her family. They formed Team Josie, which participates in the annual American Cancer Society Relay for Life and to date have raised more than $33,000 for the Society.  This year, Team Josie is raffling a Schaefer Guitars Hamilton Headless donated by Schaefer Guitars.
Please consider purchasing a ticket – it is for a very good cause and you may acquire a very fine instrument. All proceeds will go to the American Cancer Society.


CLICK HERE to purchase a $50.00 ticket.
Grand Prize: Schaefer Guitars Hamilton Headless

Schaefer Guitars, www.schaeferguitars.com
The Hamilton Headless has a 25″ fret scale, mahogany body with maple top, a 1 21/32″ nut width, a zero fret, Schaller adjustable roller bridge, Steinberger gearless tuners, Kent Armstrong 12-pole humbuckers, rosewood fingerboard, and rosewood-and-pearl-inlaid knobs.
Features:
30 1/2″ total length
Less than 5 lbs weight
25″ fret scale
Honduras Mahogany body with quilted or flamed maple top
Schaefer logo inlay @ 12th fret with dots (abalone)
Siderail dots
1 21/32″ nut width at 0-fret
Rosewood fingerboard
Gold Schaller adjustable Roller bridge
Gold Steinberger gearless tuners
Gold Schaefer headpiece
Two gold Kent Armstrong 12-pole humbuckers
Rosewood/pearl-inlayed knobs
Padded embroidered gig bag by Colorado Case Co.
Value: $4,300
1st Prize: Katahdin Studios Flagstaff II Guitar Rest
Katahdin Studios, www.katahdinstudio.com/flagstaffii-guitar-stand
Katahdin Studio Furniture's Flagstaff II Guitar Rest is designed for solid body electric guitars. The contemporary trapezoidal backplate is sculptured from a thick slab of select American Black Cherry. All contact points are felt covered, and there is a "pick" tray on top of the yoke. Dimensions: Approximately 11" wide at base, 12" deep, 25" high; Distance from Soundbox Pads to bottom edge of Yoke is approximately 19 1/2". Handrubbed Oil Finish. As always… Made in Lewiston, Maine USA.
Value: $390
2nd Prize: Stetsbar Guitar Bridge
Stetsbar, www.stetsbar.com



Value: $299
(4) 3rd Prize(s): Souldier Guitar Strap
1. GS1007TP02BG retail $50 Dancing Bears – tan
Officially licensed by Souldier, the 'Dancing Bears' pattern is one of the iconic Grateful Dead images.
2. GT0784BK02DB retail $40 Tigard
A 3″ bass strap. Geometric design in earth-toned forest gree, brown, tan, and burnt orange on black seatbelt. Dark brown ends and rounded silver hardware.
3. GS0112BK02BK retail $40 Perisan Black
The intricate design is has hints of taupe and tangerine with gold and silver metallic threads woven throughout. This strap reflects light well on stage and is quite the eye catcher.
4. GS0274BK02BK retail $40 Marigold guitar straps
One of the most recognizable Souldier guitar straps. Yellow and orange marigolds on black with a brown scalloped border.
Guitar courtesy of Schaefer Guitars; guitar rest courtesy of Katahdin Studio; guitar straps courtesy Souldier Straps; Stetsbar courtesy of Stetsbar; all other prizes courtesy of Vintage Guitar magazine.